We all hear about it. We all deal with it. We all pay tribute to it. The "it" I'm referring to, is the death of a professional wrestler. Sometimes you hear about someone who you didn't really watch all that much, and perhaps didn't even know was a wrestler. Then sometimes you hear about a wrestler you watched, but maybe you just weren't really a fan of that one. But then....sometimes, you learn of the passing of a wrestler you were very familiar with, someone you watched perhaps every Saturday morning.
Maybe you cheered them wildly when you heard their music hit the arena. Perhaps you dreamed of watching them in person and watching that entrance in LIVE and in living color. You imitated them in your back yard or in your bedroom as a kid. You pretended there was a video camera there and you'd try to re-enact their performance on your trampoline. And while others around you don't quite get it, and don't understand it. Those of us who call ourselves wrestling fans...we all understand it.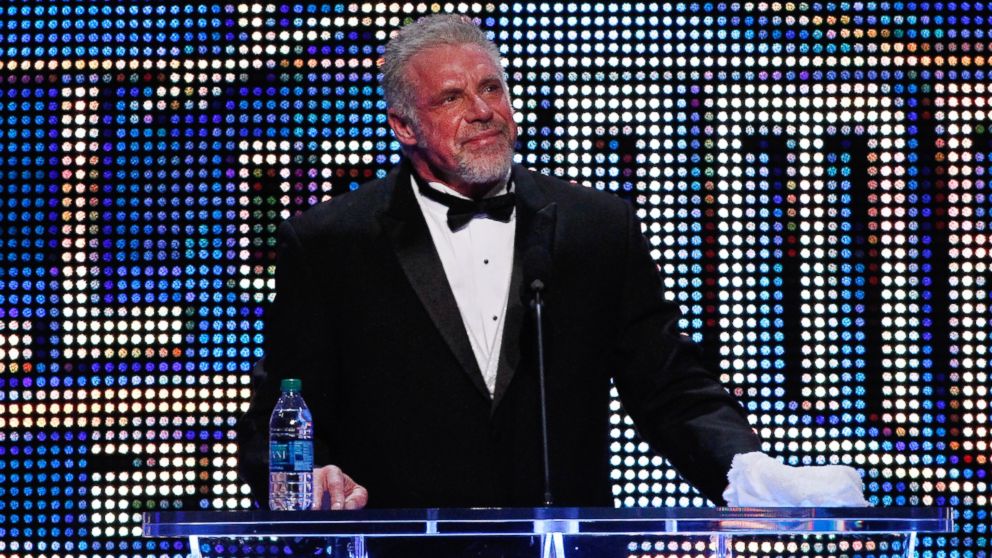 I was fortunate enough to be one of the thousands in attendance this past Saturday night at the Smoothie King Center in New Orleans, Louisiana. It was my first ever opportunity to witness the splendor, the elegance, and the excitement known as the WWE Hall of Fame Induction Ceremony. Why was I so fortunate? Well many of you know where I'm going with this. You see three nights ago, The Ultimate Warrior stepped out from behind the curtain, his two daughters at his side escorting him to the platform, where he'd receive his latest accomplishment in the wrestling business: A WWE Hall of Fame Induction. In fact, the Warrior was this years' "Main Event" inductee. And while delivering his speech, the most memorable words I heard him say were that his greatest accomplishment ever, was to be the father of his two children. It was very touching and very moving, and the crowd inside the Smoothie King Center were definitely pro-Warrior. That was Saturday night.
On Sunday night, I was again, fortunate enough to be one of the over 75,000 fans who witnessed WrestleMania 30 LIVE inside the Superdome. Mid-way through the event, as the Hall of Fame Class of 2014 stood at the top of the ramp, that familiar music hit yet again. Out stepped The Ultimate Warrior, to the cheers and adoration of every person present, and millions around the world. That was Sunday night.
On Monday night, I, my wife and two of our friends (James and Jenni) who went with us to New Orleans, arrived at the location where we would spend the night, Jenni's parents' log cabin home in the mountains of North Carolina. We would stay the night there, before getting up the next morning to make the remaining five hour trip to home. Before going to bed, we had decided we would watch RAW, which we had on the DVR, thanks to Jenni's parents who recorded it for us. We sat and watched The Ultimate Warrior come out to a chorus of cheers and chants of "Warrior! Warrior!" As he began speaking, none of us watching in that living room Monday night, knew that we were watching The Ultimate Warrior for the final time. Warrior had perhaps his greatest promo ever on RAW, completely in character and to the point, giving all the credit to the fans for what he had become in wrestling. It was very fitting. That was Monday night.
Tuesday, we woke up and made the rest of the journey back home, after having just enjoyed one of the greatest weekends in my life as a wrestling fan. Tuesday evening, my wife and I turned on the WWE Network and watched the Undertaker's match with Brock Lesnar from WrestleMania. I needed to hear the announcers call that match and get another point of view of what I would call the most stunning wrestling moment since Ted DiBiase, Andre the Giant, and Earl Hebner robbed the WWF Championship away from Hulk Hogan in 1988 to end his four year reign as Champion. That was Tuesday night.
Wednesday morning, I said to my wife: "I guess it's time to get back to real life." Moments later, I picked up my cell phone to check my notifications. I largely get my news from Bleacher Report and Wrestling Inc., and there was a notification there that read: "WWE confirms Hall of Famer..." Wanting to know what was going on, naturally, I clicked the link. Waiting for it to load, I just wandered what was going on with some Hall of Famer. As the headline opened, I dropped my jaw. I continued reading and couldn't believe what had happened. The Ultimate Warrior, the former WWF World Champion, one of my childhood favorites, and now a Hall of Famer....had collapsed while walking with his wife in the parking lot of his Arizona hotel.
I was stunned. I'd just seen him twice in person, and again on Monday Night RAW. It was very hard to comprehend what I had just found out. I took to my Twitter and Facebook accounts and numerous of my friends were offering up their tributes, photos, Warrior quotes, memories, and R.I.P. messages. The Ultimate Warrior had really died. It was true. And as the realness of the situation began to sink in, I couldn't help but to take myself back to Saturday night, as the Warrior stood on the platform to give his Hall of Fame acceptance speech, the camera fixed on his wife who was seen blowing her husband several kisses in a row and smiling and telling him she loved him. And his two daughters...Sitting there listening to their dad tell them that of all his accolades and achievements, his greatest accomplishment ever was to be their father.
We don't always understand it, but it's coming to all of us some day. Death is that thing that reminds us that our physical bodies aren't immortal. It reminds us that we aren't in control of every breath we breath. It reminds us that at any moment, at any time, from out of nowhere, the heart will beat for the final time. I can only hope that he had a relationship with the Savior, Jesus Christ. Because I'd truly like to see him again one day, to personally thank him for his contribution to something I truly love. He was one of the main reasons I enjoyed watching wrestling so much in the later 80's and early 90's. From his ground-shaking victory over The Honky Tonk Man at SummerSlam '88, to his torch-passing victory over Hulk Hogan at WrestleMania 6, to his surprising and thunderous return to the WWF in the Hoosier Dome at WrestleMania 8, The Ultimate Warrior was indeed electrifying and exhilarating like no one before him or since. He was one of a kind. He was a special performer. And only those who knew him personally, or those of us who call ourselves professional wrestling fans, will understand exactly why he will be missed.
Thank you Warrior!